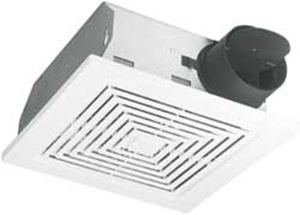 Bathroom and kitchen fans are an integral part of your home's overall ventilation system. In addition to removing odours and improving your indoor air quality, fans can also help lower the level of humidity in your house, protecting your home from moisture damage and helping to prevent the growth of mould. But with so many models to choose from, how do you know where to begin?

1- Choose the quietest, most energy-efficient fan you can afford in the size range required. Most fan labels have Home Ventilation Institute ratings so you can compare both noise and energy efficiency. As a good rule of thumb, a good-quality bathroom fan should draw 25 litres of air per second (50 cubic feet per minute), while a kitchen range hood should generally move between 50 to 140 litres of air per second (100 to 300 cubic feet per minute). Large bathrooms, or those with bigger fixtures such as spas, need larger fans to handle the higher levels of humidity.

2 - In the bathroom, look for a fan with replaceable parts and permanent lubrication if possible, as well as one that is suitable for continuous use. If you choose a fan with an integrated heating lamp or lights, look for the most energy-efficient model available. Any fan installed in an insulated ceiling or under an attic must also be guaranteed not to leak air and must be rated for use under insulation.
Make sure that exhaust fans, lights, and heaters in bath or shower enclosures are rated and approved for wet conditions, preferably including some kind of ground fault protection.
3 - To keep noise levels to a minimum, look for fans labelled 'low noise' or 'quiet,' and select the quietest fan in the size you need. Remember: if it isn't rated, there's a good chance that it will be noisy.

4- Lastly, the most useful kitchen range hoods have a low noise rating, an energy-efficient fan, fluorescent lights, sound insulation, anti-vibration mounts and duct connections. For heavy-duty use, select non-corrosive materials such as aluminum or stainless steel.

Some fans come with dual sensor technology that reacts to both motion and humidity and automatically turns the fan on when someone enters the bathroom or a rise in relative humidity is detected. Those fans are very energy efficient because they only operate when necessary and are ideal for kids' bathrooms, as well as, assisted living or handicap accessible restrooms because of their hands-free operation.