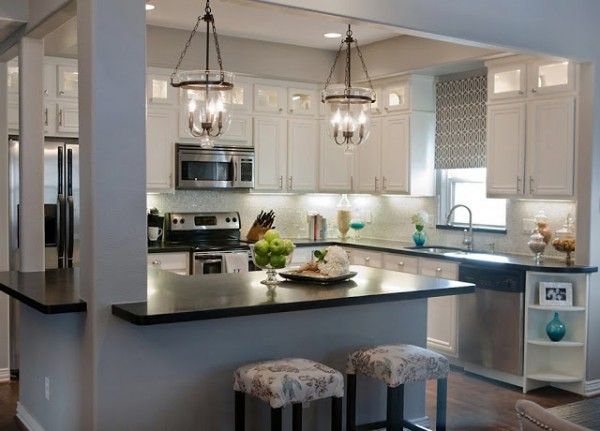 The kitchen is becoming the hub of the house. It is not just a place where meals are prepared—most families enjoy gathering in the kitchen. Some people like to entertain their close friends in the kitchen. As well, kids are also opting to do their homework there.
The right lighting can make a kitchen glow and give small space an airier ambiance. New lighting is also cheaper than carving out windows or skylights. The type of lighting you choose will be influenced by the size of the kitchen, the colour theme, cabinet finish, the location of the windows and doors, the amount of light needed to see inside the cabinets, and other storage.
When looking for the right kitchen lighting, first decide what kind of atmosphere you want your kitchen to have. Kitchen lights come in an infinite number of varieties, so it is important to know what you are looking for first.
Choosing the right type of lighting mainly involves identifying areas of the kitchen where you want lighting.
Start with overhead light fixtures. Most people have at least some recessed lighting fixtures in their kitchens. They distribute the lighting nicely and they are a great first "layer" of light to establish. You can also consider pendant lights for general overhead lighting. Even though the light source is more focused, several pendant lights that are grouped together can add a stylish touch to the room. They're also often less expensive than chandeliers.
Task lighting, such as kitchen cabinet lighting, is small sources of light placed overhead of specific task areas. This is also commonly used in closets, cabinets, pantries, etc. Track lights over the sink will give you sufficient light to do the washing.
To finish up kitchen lighting, think about accent lighting. These are lights that provide soft, non-directional light—and usually determine the mood of your kitchen. Even bringing a small lamp into the corner of the kitchen can help. The key is to create several different layers of light.
You can install accent lights inside cabinets, especially if they have glass doors. Put on some spotlights to highlight a photo or an interesting detail. To add more interest to your kitchen, consider installing dim lights under the toe-kick. Toe kick lighting can illuminate the floor and produce a balanced lighting effect from ceiling to floor when combined with other lighting types.
To enhance the look of the kitchen as a whole, you can use decorative lighting. Downlighting is used for its energy efficiency and bright clear light. Low voltage bulbs, CFLs, and LEDs are energy efficient kitchen lighting and are widely used for good quality lighting. Pendant lighting is typically preferred to recessed fixtures.
Lighting glare can be avoided by mounting the lights to the back of the cabinets. If you have a breakfast area in the kitchen, that is likely used for reading too, look at installing an overhead light. There is a wide choice including chandeliers, flexible track lighting, decorative pendants, etc. that you can use with dimmer switches to create the effect you want depending on the purpose. The best thing to do is combine ambient, task and decorative lighting for the ultimate kitchen lighting plan.
Replacing a boring ceiling light with a fancy chandelier can create more design impact. Also, consider a bulb makeover. Swapping your old incandescent bulbs for new, colour-enhancing fluorescents can make your worn cabinets looks brighter and better. For working areas, under cabinet halogen, xenon or fluorescent task lights can do the trick because they cast fewer shadows. For a designer look, hang two or three pendant lights over an island or a sink.
If the kitchen lighting layout is not planned properly, even the smartest kitchen can look dreary. Today, there are many wonderful choices available so that you can choose the right type of illumination that is easy to install and provides the kind of light you want.